Beirut was devasted on 4 August by a massive blast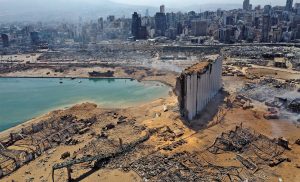 First, the ground shook, ever so slightly, almost imperceptibly. A quick look around confirmed the sensation; the wardrobes in the house were shaking.
One second, two seconds, three, and it stopped.
A moment of stillness, and then it struck – an earth-shattering blast.
This time the whole building shook, but that was nothing compared with  the sound.
And this was more than 10km from the site of the blast in Beirut.
An instinctive rush to the windows to see smoke billowing from the direction of the capital. Then, an instinctive rush away – what if there was another one?
For many, it was the loudest explosion in memory, and there's no shortage of explosive memories in Lebanon.
On the highway into Beirut from the north, ambulances inched their way through heavy traffic – a stream of motorists desperate to get to the surrounding neighbourhoods, check on friends and relatives, and take them away.
With traffic at a standstill, radios and phones brought the most terrible news – of hospitals overwhelmed, of thousands injured, and of the raging fire.
Those driving towards Beirut were forced by the army to make a U-turn, or continue on foot if they chose.
Broken glass crunched underfoot on the last stretch of road before entering the city, and a tractor roared through, clearing piles of rubble.
Buildings were barely recognisable, with empty window frames and no lights in sight.
A few silent figures emerged from the dark, some wounded but walking, others sitting and waiting with empty stares and barely a sound.
The closer to Beirut, the darker it got.
It had started with a fire in the port. Even now it's not clear the precise time the blaze started.
But by 17:54 local time, a tweet from a correspondent for the Los Angeles Times showed the smoke billowing into the sky.
What followed has been shown in a series of videos posted on social media. There is an initial explosion which throws denser, darker smoke and debris into the air.
A series of flashes can be seen, almost like fireworks going off. An intense area of flame can be seen at the base of the smoke.
Then, 35 seconds after the first blast, there is a second, massive explosion. A huge column of red/brown smoke goes up and a white dome-like cloud follows the blast out.
Scores dead. Thousands injured. The heart of a city destroyed.
And at the centre of it, a warehouse full of nearly 3,000 tonnes of a chemical used for explosive. Ammonium nitrate.